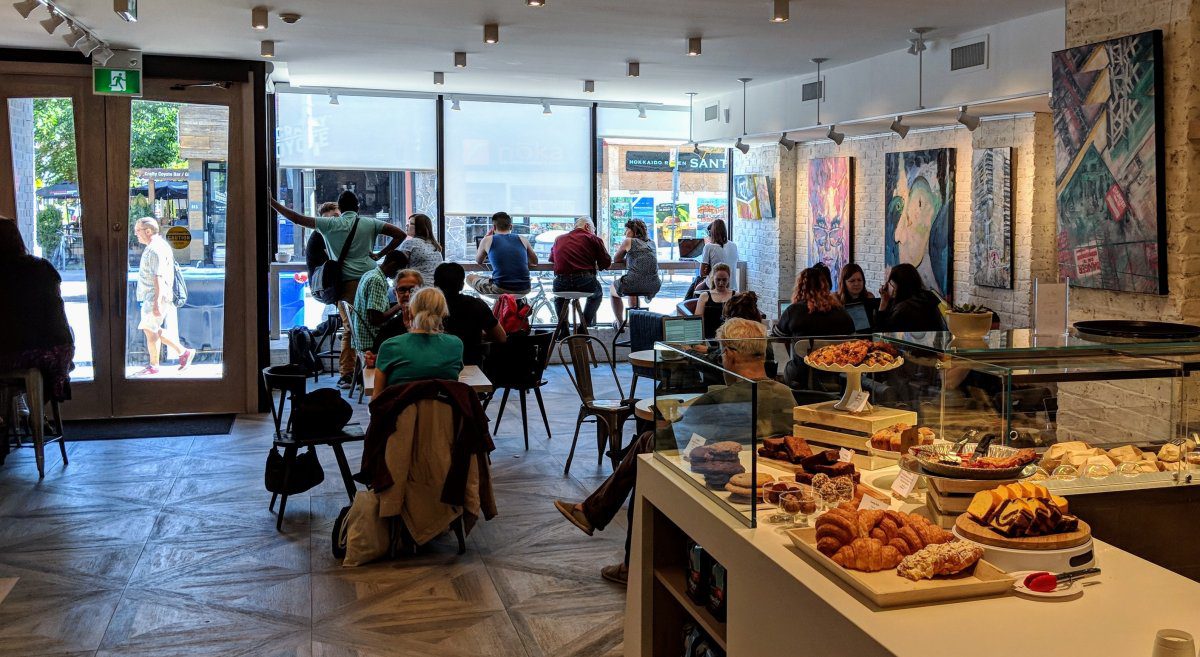 Step inside Slanted Door Art Gallery, Cafe, and Lounge to discover new artwork. Browse through the shop, view the art at your own pace, and make purchases if a piece catches your attention. We're updating this regularly, so make sure to visit again!
Slanted Door in The Annex
A gallery, café and lounge in the heart of Toronto's creative downtown
Slanted Door is a café, lounge, and art gallery located in the heart of downtown Toronto's Annex neighbourhood. Our focus is to help the Toronto arts community discover emerging talent by promoting and showcasing local, up-and-coming artists.
Toronto is home to a vibrant arts scene that attracts talented creatives from around the country. Slanted Door provides a relaxed, welcoming gallery environment where unheralded artists can show their work and patrons can encounter fresh, new perspectives. Slanted Door seeks to offer a learning experience to the local community, including introducing art as an investment opportunity for homeowners and businesses.
Slanted Door is located on Bloor Street West, between Bathurst Street and Spadina Avenue, in the heart of the Annex neighbourhood. For decades, the Annex has been a magnet for Toronto's artistic, musical, and academic communities. Home to a diverse and open-minded population, the Annex is an ideal home for Slanted Door art gallery and café. Like owner Patrick Jabbaz, Toronto's artistic community is enthusiastic about emerging artistic talent and committed to supporting those who drive the culture forward: the artists themselves.
We hope to welcome you to Slanted Door Art Gallery and Café soon!
Slanted Door is more than an art gallery – it's also a café, lounge, and gathering place where The Annex's creative community can come together to share their love of the visual arts over a delicious cup of coffee.
Hours: Monday to Friday 8:30AM to 7:30PM  / Sat 9:00AM to 6:30PM  / Sun 10AM to 6:30PM